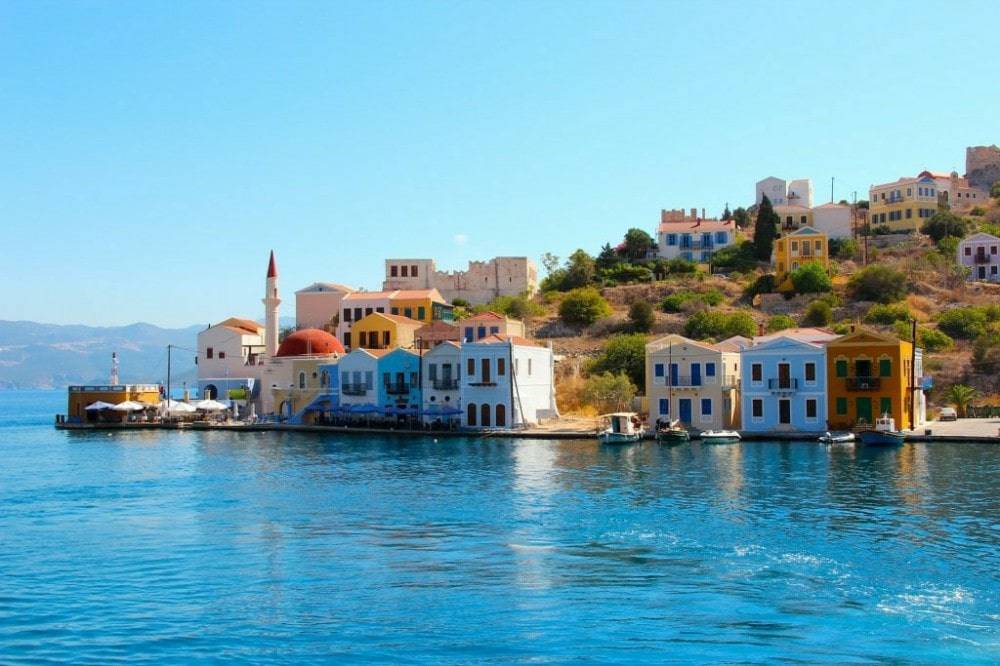 Top 10 Things to Do in Kas, Turkey
Wondering what there is to do in Kas, or where to stay? Look no further! If you are thinking of visiting, hereby a list of some of the best things to do in Kaş.

1. Wander Round the Town
The first thing to do when you arrive in any new place, is to wander and get lost. Having said that, it's fairly impossible to get lost in the cute little resort of Kaş, but be sure to go for a walk round the town. There are some cool bars, lovely restaurants, and adorable streets lined with pink Bougainvillea flowers. At night everyone seems hang out and socialising in the main square, so, especially if you're travelling solo, head there, mingle, and make some friends.

2. Relax on Stunning Kaputaş Beach
Around 18km west of Kas is one of the most beautiful beaches I have ever visited. Kaputas is a medium sized beach tucked away in a mountain cove. It's a very easy drive if you have a scooter or a car. Alternatively, during the summer months there are many minibuses (dolmus) from the otogar. The unique thing about Kaputas is the stunning colour of the water where the mountain fresh water meets the sea. It is quite magical.
Be sure to take refreshments as there aren't any stores nearby.

3. Go Diving
Kas, located on the Southwest Mediterranean Coast of Turkey, is the premier destination for scuba diving. The waters of Kas have unusual shore formations, ancient and modern shipwrecks, reefs, canyons and large caves.
The area around Kas is one of the Top 100 diving destinations worldwide. This ranking reflects the amount and quality of underwater life, clear water (up to 40 meters (131 feet) visibility ) and beautiful underwater landscapes.
There are about 30 different dive spots, within 30 minutes of Kas Harbor. Diving among shipwrecks, cave-diving, exploring underwater canyons, stone reefs, swim-throughs & tunnels, night diving as well as underwater art exhibitions are all part of the Kas' diving scene. Not to mention swimming & snorkeling.
Read more Diving in Kas here.

4. Visit the Old Amphitheatre
Just a five minute stroll out of town past the hospital is the old amphitheatre. It's in great condition and in summer there is an occasional concert. It's well lit, and Kaş is very safe, so you can visit at night (like I did), when it really looks quite beautiful.

5. Paragliding
Paragliding might not be for everyone, but if you have a crazy edge, Kaş is a great place to paraglide. The views are beautiful. After a 10 minute drive up the mountain, you run off the paraglide point and away you go, drifting over the town, enjoying the beautiful views before landing in the marina. I paraglided for the first time in Kaş and had an absolute ball. It costs around 170TRY. Be sure to barter for the price and any videos you might want to purchase afterwards.

6. Head to Greece for the Day
The Greek Island of Meis is only a 20 minute boat trip away, making it the perfect day trip. There are a couple of large boats leaving at 10am, and returning at 3pm. Meis is a small, pure island which provides just the perfect taste of Greece. It's a great place to swim, eat and relax. There is a booking office in Kaş town; you should book the day before. If you head to Meis, be sure to visit the Blue Cave, it is stunning.


7. Shop at the Friday Market
Every Friday there is a market just 2 minutes from the centre of town. Locals and tourists alike frequent the market where you can buy cheap clothes, knock-off trainers, Turkish delight, fresh vegetables and handmade trinkets. If you go there, be sure to try the slushies made with fresh snow brought down from the mountain.

8. Head up the Mountain at Sunset
Rent a scooter and drive up the mountain at dusk. It's peaceful, and the view is beautiful. It looks great after dark as well. In the day, you can watch the paragliders taking off.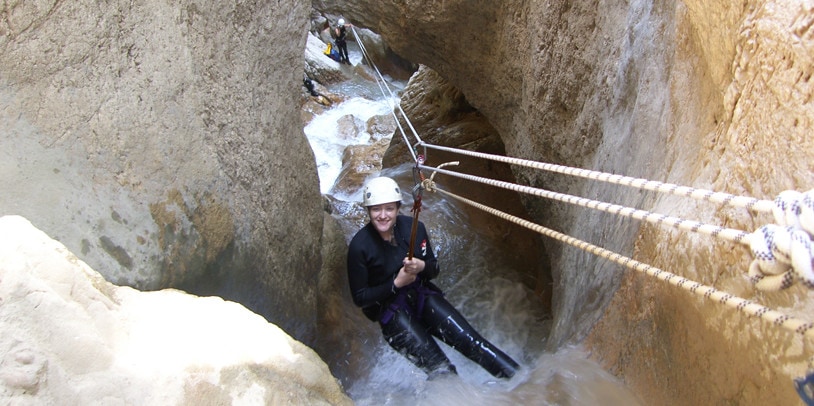 9. Canyoning in Kas
Canyoning is a new outdoor activity. It includes jumping into clear pools of water, repelling down waterfalls, swimming through narrow passages, climbing boulders and walking. The Canyoners wear wetsuits and carry waterproof packs and containers. Some descents require the use of ropes and harnesses. Descents are sometimes challenging. We use several local canyons including the famous Saklikent gorge. All you need are a head for heights, the ability to swim and a taste for adventure.
Read more about Canyoning in Kas here

10. Catch the Boat to Limanagzi and Chill at the Beach
From Kas harbour there are frequent boats over to Limanagzi, a little area of Kas with several beaches. It only takes a few minutes to get there. You can ask the boat's captain to drop you at any of the beaches. I went to Delos Beach, which was a great place to relax and swim. There is no road between Limanagzi and Kas centre, so remember the last return boat back to Kaş harbour in summer is at 6pm!