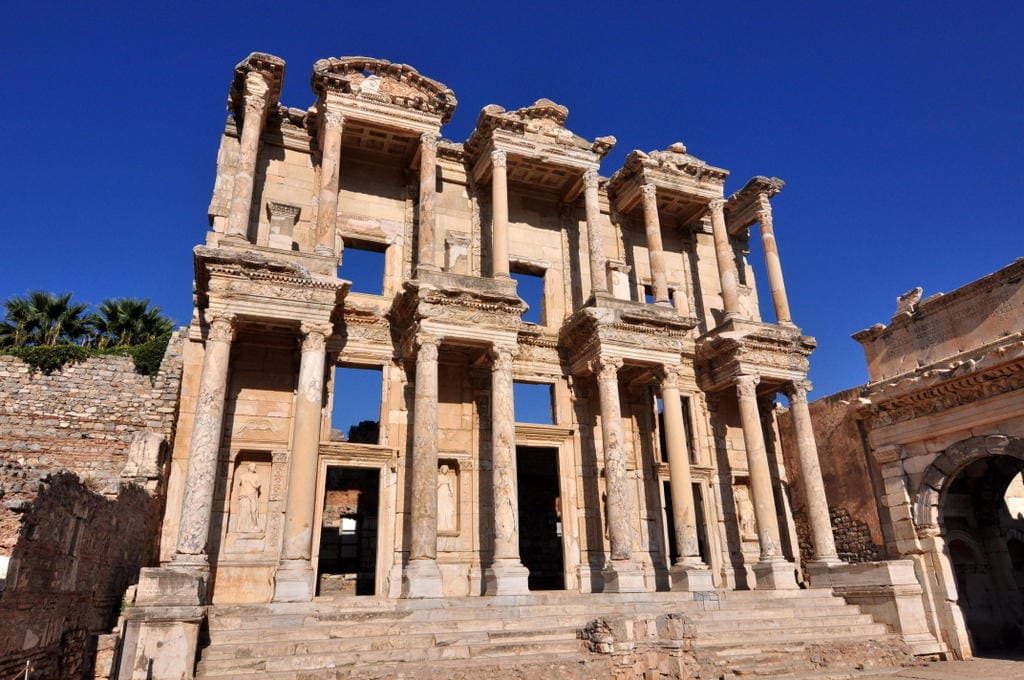 Best Ancient Cities in Turkey in 2021
Thanks to Ancient Cities, it's possible to observe the traces of civilizations that lasted thousands of years where modern Turkey is located. There are priceless ancient artifacts worth seeing at the settlement areas of these ancient civilizations.
Ancient sites of Turkey, which are mentioned in ancient Greek myths, have never lost their appeal. Interest in Anatolia region has increased incrementally for the last few centuries in which archaeology and history of art have become professional platforms in the world.
We can count numerous examples, be it Zeus' home Olympos, Ephesus that is dedicated to Artemis, Asphedos Theatre from Roman period or Aphrodisias that is dedicated to goddess Aphrodite.
Zeugma, famous for its Gypsy Girl mosaic, or Myra where Santa Claus (Saint Nicholas) was born are among the best ancient cities worth visiting in Turkey.
Best Ancient Cities in Turkey 2021
Best ancient cities in Turkey spread all over the country. I suppose if we made a list of holiday places in Turkey, it would contain almost similar spots. Some of the ancient cities are very close to the beaches and allow you to experience cultural tourism and sea tourism together.
Olympos, located between Kemer and Adrasan districts of Antalya, is mentioned in mythology as a holy mountain where Gods resided. Mountain of the Gods from where Zeus sent his bolts to the earth is here.
There is a fire that burns constantly on Mount Olympos, namely on the skirts of Tahtali Mountain. Today, it is known as Yanartas. Ancient remnants can be seen scattered on both sides of a river that flows into the sea.
This ancient coastal town of Lycia is a very popular touristic destination today. It's possible to walk through magnificent ancient remnants, reach the beach and enjoy the sea there.
Olypmos is Located in Antalya
You can find the traces of Neolithic, Hellenistic and Roman eras at Ephesus ancient city, which is located at Selcuk district in Izmir. According to a legend, the Amazons, a tribe of women warriors, founded Ephesus.
According to historical records, Ephesus became a settlement area where wars were fought throughout its history. Also, its location changed a lot of as its riverbed was filled with alluvium.
Visiting the famous Temple of Artemis and the Library of Celsus considered as the top things to do in Ephesus ancient city of Izmir, Turkey.
Best Ancient Cities to Visit in Turkey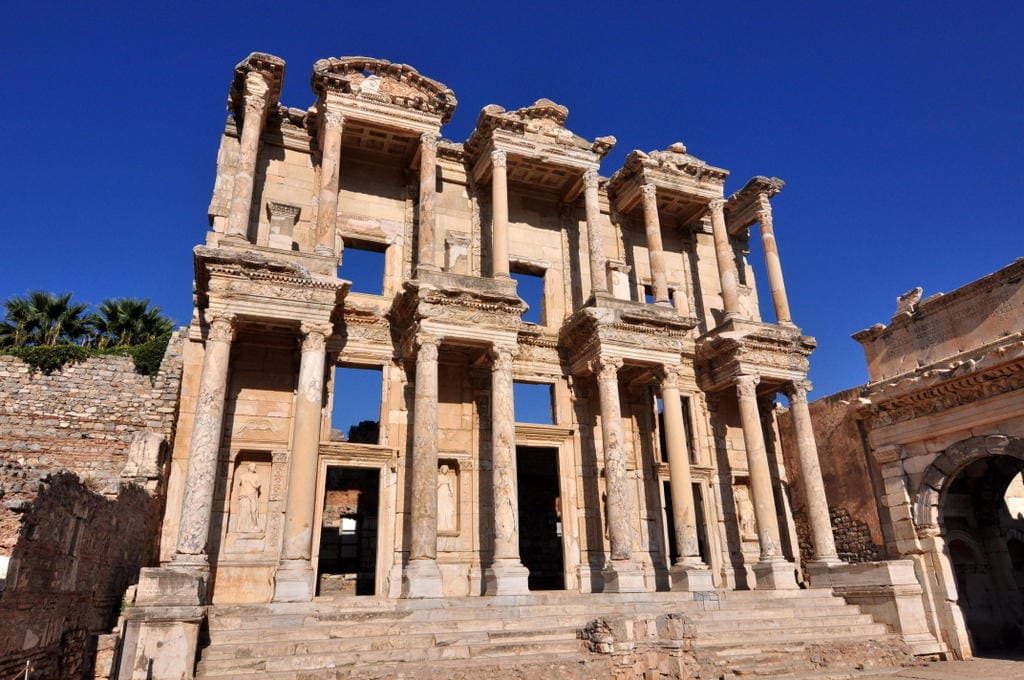 Aspendos and Ancient Theatre
Aspendos is located at Belkis village of Serik district in Antalya. The amphitheater, founded by the Romans in 2 A.D., is one of the most visited ancient amphitheaters.
According to the mythological story of this theatre, King of Aspendos couldn't make a choice amongst many suitors for his beautiful daughter. He announced that who rendered the greatest service to the city would marry his daughter. Therefore, Aspendos Theatre was built by one of the candidates to challenge his rivals.
Aspendos Ancient Theatre has always evoked admiration thanks to its magnificent acoustic and its fascinating stage. According to the legends, even the warriors who wanted to conquer this city decided not to demolish this theatre due to its beauty.
Aspendos Archaeological Site in Antalya
Ancient City of Aphrodite
Aphrodisias, the culture capital of ancient ages, is located at Aydin province in Turkey. The monumental gate of the ancient city, Tetrapylon, has became a cover photo of important magazines in the world, thanks to the pictures that photographer Ara Guler took in 1961. The Ancient Stadium in the ancient city is known to be the biggest and most well preserved stadium.
Aphrodisias is Located in Aydın
Holy Ancient City Hierapolis
The ancient city, which is named after the Amazon queen Hiera, is located next to the travertine in Pamukkale. This ancient city, which has religious remnants and temples, is also known as the holy city.
Hierapolis Ancient City's theatre and the cemetery, known as Necropolis, are the most interesting artifacts. Moreover, there is a pool in the ancient city, which is embroidered with ancient remnants and visitors are allowed to swim in it.
Hierapolis Located in Denizli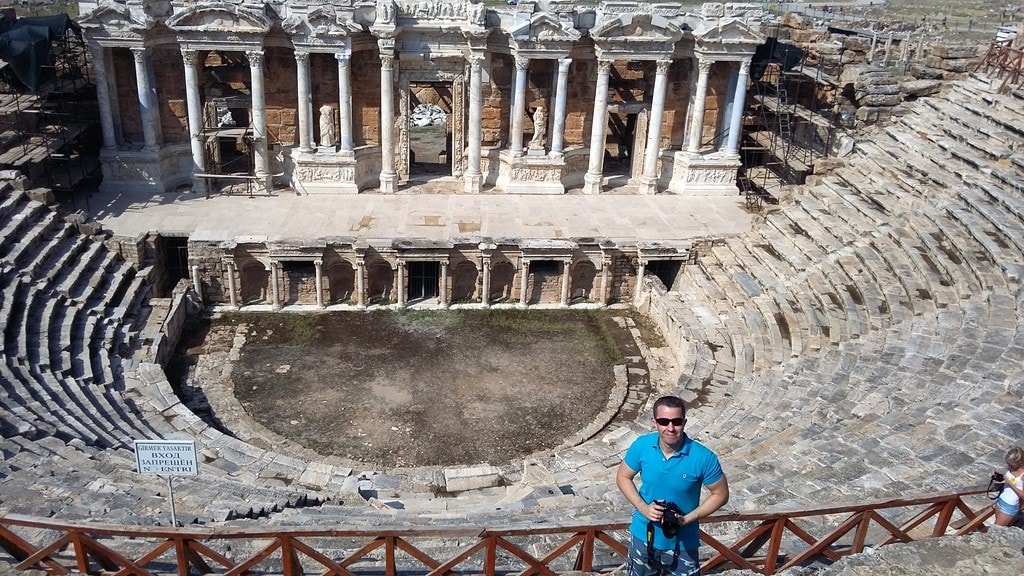 Heroic Ancient City Xanthos
Xanthos Ancient City has a fascinating story. According to the legend, the residents of this city fought hard to prevent Alexander the Great from invading their city. When they became helpless, they set the city to fire and committed a mass suicide.
Xanthos Ancient City, which has a harrowing story, is located in Mugla. This ancient city was Lycia's religious and administrative center.
The ancient theatre here was used for gladiator fights during Roman Empire. Do you think we can hear the excitement sounds of spectators, if we concentrate?
Xanthos is Located in Mugla
The city of Leto with its Leto, Apollon and Artemis temples, a monastery as well as a fountain and Roman Theater served as the religious center of Lycia. This ancient city, also known as the temple city, is 4 km. from Xanthos.
There is a small Artemis Temple between Leto and Apollon Temples, although it can't compete with the glory of the temple in Ephesus. Even though centuries have passed, Letoon Temples still have a mystic atmosphere.
Letoon is Located in Mugla
Catalhoyuk Neolithic City
Catalhoyuk City, which is located in the Central Anatolia Region, is in Konya province. Catalhoyuk, which is one of the first stops of humanity in their transition to settled life, is composed of 18 Neolithic settlement layers.
Catalhoyuk is Located in Konya
Zeugma and Gypsy Girl Mosaic
Zeugma Ancient City, located in Gaziantep's Belkis village at Nizip distric, is named Zeugma, as Zeugma means transition and this city is situated at a transition point.
Ancient remnants of Hellenistic Agora, Roman Agora, holy sites, a stadium, a theatre, baths, Roman legionary base and administrative buildings can be found at Zeugma ancient city.
In this ancient city, where mixed traces of Hellenistic and Semitic cultures can be encountered, Gypsy Girl Mosaic is the most famous ancient remnant. Zeugma Ancient City, thanks to its Gypsy Girl Mosaic, one of the Best Ancient Cities to Visit in Turkey.
Myra, Birthplace of Santa Claus
Myra ancient city, located at Antalya's Demre district, is accepted as the birthplace of Saint Nicholas (Santa Claus). Myra means the Place of Holy Mother Goddess.
Lycia's most gorgeous mausoleums and a Roman theater can be found at Myra. It is one of the best examples among ancient theaters with its reliefs of theater masks and the representation of mythological stories.
Temple of Zeus and Aizanoi
Aizanoi Ancient City, famous for its magnificent Temple of Zeus, is located at Kutahya's Cavdarhisar village. Zeus Temple attracts attention due to the pictureson its walls and ancient scripts written for the temple.
The remnants of the world's first Stock Market Building are also in this city. The Theatre, Curates Street, a stadium and mausoleums are among other remnants of this ancient city.
Best Ancient Cities in Turkey by BarefootPlus