Family Holiday Places in Turkey in 2023
Family Holiday in Turkey
Turkey is fast becoming one of the most family-friendly and interesting tourist destinations in Europe. Thanks to its growing wealth, eclectic culture, and beautiful landscapes, the country that joins Europe and Asia together is an exciting travel prospect.
However, knowing exactly where to go in this enormous country can sometimes be a struggle for families. In this article, we're going to take a closer look at some of Turkey's best family destinations, discussing both the pros and cons of each.
Family Holiday Places in Turkey 2023
Here is our list of the family friendly holiday places in Turkey in 2023. We hope this piece will help you to prepare your travel plans in Turkiye. Have fun!
Bodrum and the surrounding peninsula is one of the most attractive regions in all of Turkey. With it's crisp, blue seas, beautiful lush landscapes, and endless sandy beaches, it's a firm favorite among families.
There are some drawbacks: Turkey has done all it can to capitalise on the natural beauty of the region, which has resulted in an inevitable buildup of the surrounding area. Hotels, villas and general tourist development have detracted somewhat from the stunning scenery of old. With that said, the town of Bodrum is full of helpful amenities – perfect for families who want convenience.
The town of Bodrum still retains much of its historic charm. It is built around the central castle of St Peter. Nearby is the Mandarin Oriental, the most famous local resort, which has access to its own private beaches, a pool for relaxing, and a host of other amenities, including a spa.
Antalya is a large city on Turkey's Mediterranean coast, home to more than a million people. The destination is ideal for families who enjoy experiencing new cultures and ideas, although it does cater well for the traditional beach holiday too. Every year, Antalya plays host to a variety of festivals, including the annual piano festival.
In 2018, Antalya hosted its 19th annual international piano festival, featuring a range of artists including Laua De Los Angeles, Gurer Aykal, and Kenan Tatlici. Antalya also hosts one of Turkey's premier film festivals too – ideal for families who love to explore new and exciting on-screen experiences. Perhaps the only downside of Antalya is the fact that the city is more set up for young adults, with its vibrant nightlife, huge nightclub scene, and numerous bars.
The Su Hotel is one of the city's standout resorts – a giant hotel complex that overlooks the Mediterranean sea. The hotel, all-white, has its own pool and a range of sun loungers. The area surrounding the hotel is home to some of the best beaches in Turkey and sites of archaeological interest.
Fethiye lies near a natural fault line. Back in 1958, there was a major earthquake that destroyed much of the old town. As a result, Fethiye is quite modern in appearance compared to other settlements on the Western Turkish coast.
Fethiye is an ideal place for families who want to get away from it all. Surrounded by stunning scenery, the town is relatively isolated, sitting in the mouth of a natural bay. The nearest beach is at Calis, just a few miles away, and can easily be reached by bus or water taxi. Here you'll find clear waters and an array of restaurants serving traditional, Turkish fare.
Some parts of the old town in Fethiye remain, including the Paspatur, meaning "old quarter," where you'll find unusual white-washed mosques and traditional cobbled streets.
One of the places you should definitely see in Fethiye is Butterfly Valley. swim and do in Butterfly Valley hiking are among the best things to do in Turkey.
Family Friendly Holidays in Turkey 2023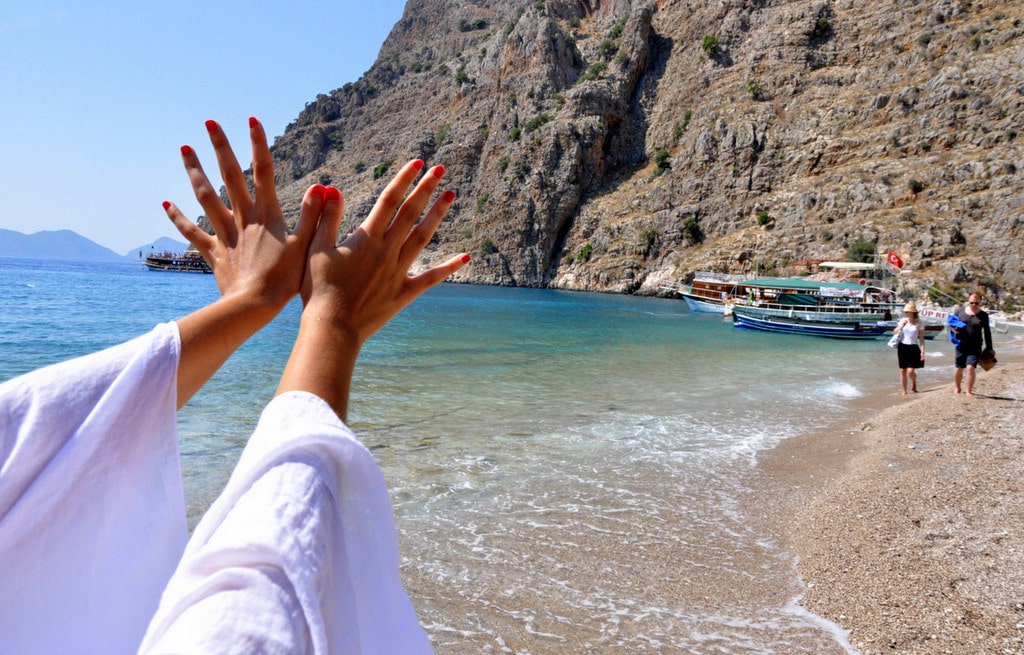 Marmaris is a large tourist town on the Western coast of Turkey. It's home to a range of major hotels and resorts including the Green Nature Diamond Hotel, Blue Bay Platinum Hotel, Hotel Cettia Beach Resort, Candan Club Hotel, the Yunus Hotel and many more. Marmaris is an excellent destination for families because it offers some of the best package holiday deals available. Often hotels will take care of everything for you, including food and evening entertainment.
Although you can easily fill your days here next to the hotel pool, Marmaris offers a host of other attractions. You can go and visit the ruins of a Roman amphitheater, hire a boat and take it out on the lagoon, or go to the local Turkish market where you'll find entertainers, jewelry and clothes stores.
The only downside to Marmaris is the tendency of local vendors to try to swindle tourists out of money. If possible, always carry the correct change and negotiate prices before committing to buy.
Best Turkey Destinations for Families
The Oludeniz lagoon has been used for decades on travel magazine covers to showcase the very best that Turkey has to offer the world. The sweeping curves of its beaches and the pine-encrusted mountains in the background make for a stunning backdrop that every family can enjoy.
Although it presents as a paradise, families should be aware before getting there that the region has undergone a significant degree of tourist development. With that said, the area retains much of its natural charm, with many beautiful views, crystal clear waters, and sandy white beaches.
One of the most stunning resorts in Oludeniz for families is St Nicholas Park, a hotel almost entirely surrounded by a pine forest which overlooks the town and ocean below from a mountaintop. It's a superb resort with breathtaking views.
Best Area in Turkey for Families with Kids
Kalkan is one of the best Turkey destinations for families. Until the 1920s, Kalkan was little more than a fishing village. But it soon morphed into a centre for art and music, taking on a surprisingly Bohemian feel. Ever since the 1980s, families have flocked to Kalkan because of its stunning scenery and beautiful yacht harbor in the bay below.
The main positive of Kalkan comes from the fact that it remains unspoiled. It has kept its traditional charm by avoiding the temptation to build noisy nightclubs and offer guests "the full English." Life here is still relatively quiet, allowing families to get away from it all.
The Courtyard Hotel is one of the town's most exciting resorts. It's a boutique hotel with just six rooms that serves traditional breakfasts and is nestled in the heart of Kalkan on narrow streets, only a few minutes walk from the beach.
Family Friendly Holiday Places in Turkey
Family Holiday in Turkey 2023 by BarefootPlus